Explosion Protection
Our Products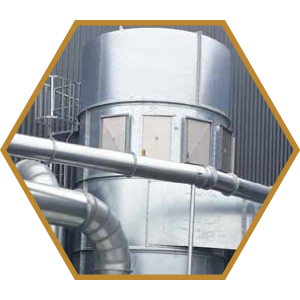 VIGIFLAP
Explosion Isolation Valve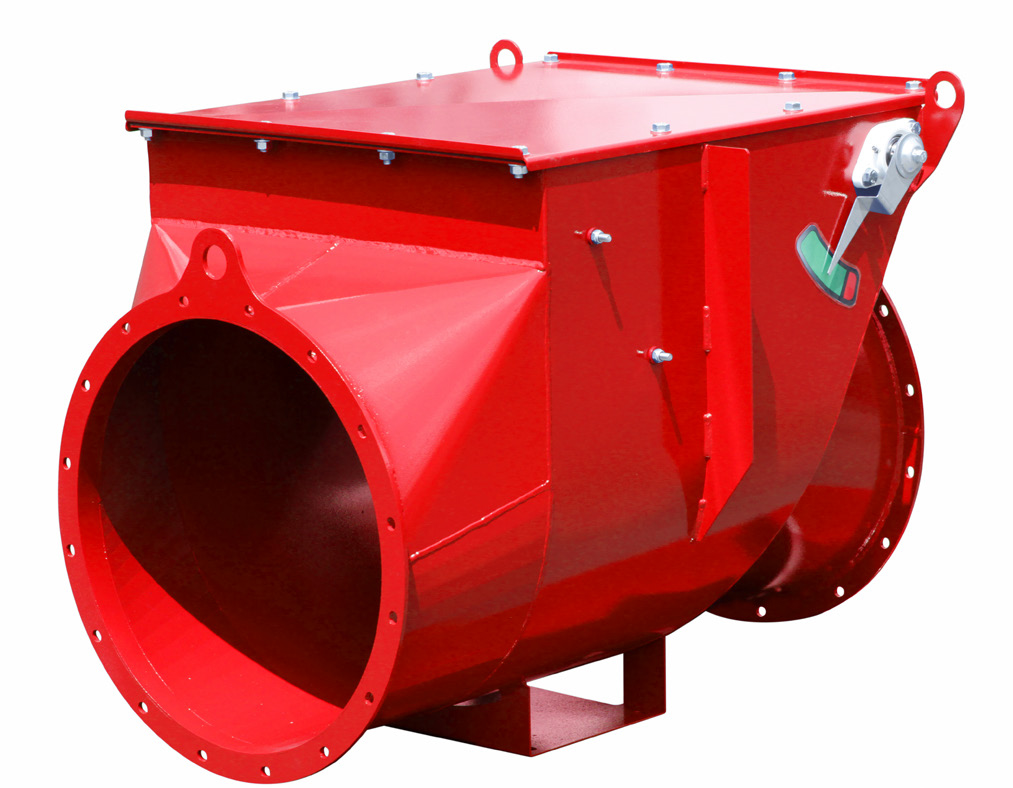 APPLICATIONS
The VigiFLAP is a non-return valve designed to prevent overpressure or flame caused by a downstream explosion (dust collectors, filters, cyclones…) to propagate in the piping system.The valve is held open by a lever arm. It can be used both at the entrance and at the exit of the filter.This allows to isolate the filter from an explosion or an overpressure.In case of explosion, the valve closes and remains locked preventing the progress of the flame.The unlocking of the flap is done manually.
Flap: Round domed flap: Stainless steel
Diameter: ø160mm to ø800mm
EPDM Gasket: -10°C to +70°C/14F° to 158F°
Flanges : ISO and ANSI flanges design
Inductive Sensor: Closing indication sensors in case of explosion or overpressure
Gasket silicon FDA:-10°C to +180°C/14F to 356F
Capacitive sensor to prevent dust accumulation (max : 60°C)
Connection box installed on the body, opposite side of the locking mechanism

Explosion Isolation valve
HIGH CERTIFICATION TESTTo get our Atex certificate (N° INERIS 19ATEX0016X) according to the standard EN16447: 2014, we carried out our explosion tests in the most extreme conditions and as close as possible to the reality of the use of the product, with for example:Protected Zone Pipeline :All test carried out with a pipeline after the flap (picture1).Flap fully open :During the test the flap valve is held fully open until the appropriate time of release.Vent panel on test vessel :No open ports were used during test but vent panels were always used.
SOON:In few months our VIGIFLAP certificate will be improved with the following additionnal features Atex certified :Push FlowVertical PositionElbowsSize until diameter 1300mmMetal dust + ST3

SIZES AND DISTANCE INSTALLATION
DN (mm)
DN (inch)
Minimum
Vessel Volume
LMin*
Min Mounting
Distance
LMin**
Min Mounting
Distance
L Max
Max Mounting
Distance
DN (mm)
DN (inch)
Minimum
Vessel Volume
LMin*
Min Mounting
Distance
LMin**
Min Mounting
Distance
L Max
Max Mounting
Distance
DN (mm)
DN (inch)
Minimum
Vessel Volume
LMin*
Min Mounting
Distance
LMin**
Min Mounting
Distance
L Max
Max Mounting
Distance
DN (mm)
DN (inch)
Minimum
Vessel Volume
LMin*
Min Mounting
Distance
LMin**
Min Mounting
Distance
L Max
Max Mounting
Distance
DN (mm)
DN (inch)
Minimum
Vessel Volume
LMin*
Min Mounting
Distance
LMin**
Min Mounting
Distance
L Max
Max Mounting
Distance
ø160
ø6*
0,70m3
4,0m
6,0m
17m
ø160
ø6*
1,35m3

3,0m
5,0m
17m
ø180
ø7*
0,70m3

4,0m
6,0m
17m
ø180
ø7*
1,35m3

3,0m
5,0m
17m
ø200
ø8*
1,35m3

4,6m
6,6m
17m
ø250
ø10*
1,35m3

4,0m
6,0m
17m
ø300
ø12*
2,90m3
4,6m
6,6m
17m
ø350
ø14*
2,90m3
4,2m
6,2m
17m
ø400
ø16*
4,50m3
5,2m
7,2m
17m
ø450
ø18*
4,50m3
4,7m
6,7m
17m
ø500
ø20*
6,05m3
5,8m
7,8m
17m
ø550
ø22*
6,05m3
5,5m
7,5m
17m
ø600
ø24*
7,65m3
7,2m
9,2m
17m
ø650
ø26*
7,65m3
6,7m
8,7m
17m
ø700
ø28*
7,65m3
6,4m
8,4m
17m
ø750
ø30*
10,00m3
7,3m
9,3m
17m
ø800
ø32*
10,00m3
6,9m
8,9m
17m
* Floating : Flap valve activated by the working air flow** Flap valve kept open by its spring blade system
| | |
| --- | --- |
| Kst max | ≤ 250 bar.m/s |
| Kst min | < 50 bar.m/s |
| Pmax | 10bar |
| MIE | ≥ 10 mJ |
| MIT | ≥ 400° |
| | |
| --- | --- |
| MESG | 1,7 mm |
| Pred, max* | ≤ 0,5 bar |
| ATEX-Mærkning | II D |
| ATEX Indv. | Zone 20 (II 1 D) |
| Støvtype | Alle støvtyper inkl. metalstøv |
Lufthastighed
15m/s ≤ V ≤ 45m/s
Anvendelse
Støvholdig Luftstrøm
Ren Luftstrøm
Proces-
Luftstrøm
Undertryk og overtryk
Antal rørbøjninger
Uden begrænsninger
Støv-koncentration
Uden begrænsninger

Features of the explosion isolation valve :